3k6 Games Festival in April at Targi Lublin
3k6 Games Festival April 22-23 at Targi Lublin! The biggest board game event on the right side of the Vistula River.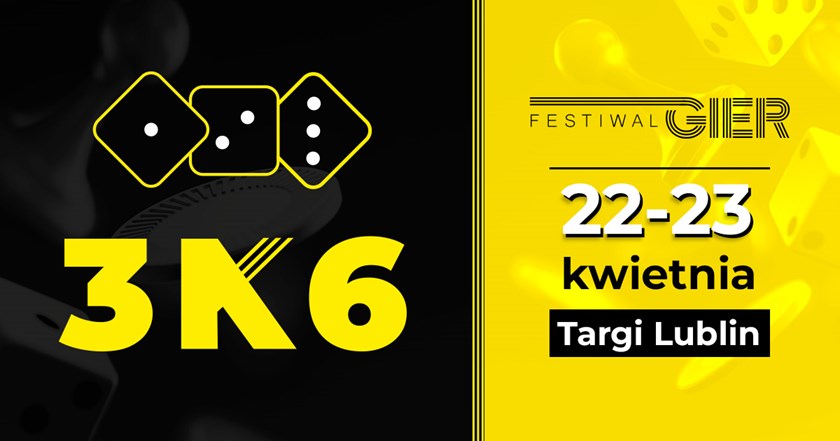 3k6 Games Festival, April 22-23 at Targi Lublin!
3k6 Festival of Games is a completely new event on the map of Poland. Already on April 22 and 23 in the hall of Targi Lublin will be waiting for you:
hundreds of board games,
best RPG masters,
stands of leading game publishers,
guests who will share their knowledge with you,
lots of extra attractions.
3k6 Festival of Games is an event ideal for families, avid gamers, but not only! If you only play board games from time to time or just want to get to know them, you will also find a great place here.
RPG games are an integral part of the 3k6 Games Festival. Both the youngest, for whom these may be the first steps in this type of games, and the old-timers who can play sessions without textbooks will find themselves in RPGs! You will be able to move to, among others, Middle-earth, the Old World, Faerûn, the Post-Apocalyptic United States and numerous other universes.
During the 3k6 event, volunteers will fight for the Lublin Cup in Neuroshima Hex! The tournament will be 2-days long, and those who don't quite succeed on the first day will have the opportunity to compete on the next day in an unprecedented tournament formula!
There will also be no shortage of guests and speakers who will appear at the Games Festival! At the festival, you will be able to meet, among others, Grzegorz Olifirowicz - a trainer, entrepreneur, gamifier and academic teacher, associated with the gaming industry since 2015. Agata Wiatr - culture animator, youth worker helping young people to implement their first socio-cultural projects, moderator of the design thinking method, leading workshops on creative problem solving, coordinator of cultural and media projects, is another person who confirmed her presence at the Festival.
Follow the social media of the 3k6 Games Festival and stay up to date!
3k6 Festiwal Gier już 22-23 kwietnia w Targach Lublin!