Lublin is a city with 700 years old tradition, often called capital of eastern Poland. It is one of the fastest developing cities in the country and is center to bordering region of European Union. Warsaw is only 200 km away from here. Thanks to the convenient location Targi Lublin are place to many important economic, business and artistic events.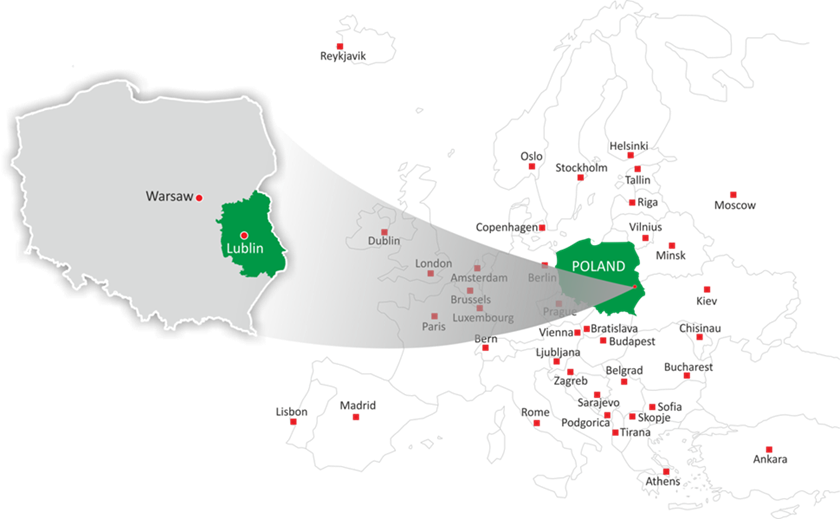 Location
Targi Lublin S.A are situated at the street Dworcowa 11, next to the city center. Thanks to it hotel and restaurant base are at the palm of the hand. Right next to Targi there is a Main Train Station in Lublin. Old town is 3km away from the train station. To airport you can by car in 20 minutes.
Access by public transport
To Targi Lublin you can easily get by few buses from almost every part of city. Entrance for pedestrians is possible from two sides: from Dworcowa and Piłsudski street (gate is open only during the events)
List of stops:
from Piłsudski avenue – stop Targi Lublin 01, Targi Lublin 02 – bus lines – 020, 030, 151, 152, 154, 155
from Lubelskiego Lipca street – stop Targi Lublin 03 – bus lines 001, 013, 030, 034, 045, 161, stop Targi Lublin 04 – bus lines 001, 006, 013
from Plac Dworcowy street – stop Dworzec Gł. PKP 01 – bus lines 001, 013, 045, 161, stop Dworzec Gł. PKP 02 – bus lines – 001, 013, 030, 034, 045, 161
Access by your own mean of transportation
Entry by car to the area of Targi Lublin is possible only from Dworcowa street. Depending on type of the event we provide parking space in the inner or outer area. For cyclists, right next to the hall there are stands, while the nearest station of city bike is near train station.
Access by train
Main train station is in direct neighbourhood of Targi, so you can easily come to us from almost any place in Poland. Current timetables of train can be found here: www.rozklad-pkp.pl
Access via plane
Airport Lublin is 20 minutes by car away from Targi Lublin. Airport executes flights to Warsaw, London, Oslo, Monachium and Tel Awiw. Detailed flight timetable can be found at www.airport.lublin.pl