LUBDOM Construction Fair in spring - March 25-26 in Targi Lublin
Wiosenna edycja Targów Budowlanych LUBDOM 2023 już 25 - 26 marca 2023 roku w Targach Lublin! Poznaj szczegóły wydarzenia i zaplanuj swój udział.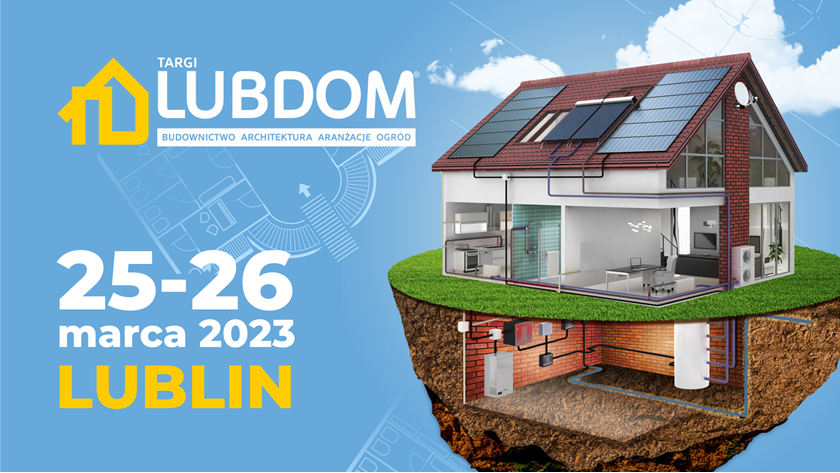 The great return of the spring edition of the LUBDOM Construction Fair! March 25-26 at Targi Lublin!
The LUBDOM fair is one of the largest events in the construction industry in Eastern Poland, which for many years has been gathering in one place both renowned manufacturers of building materials, experienced contractors and experts in the construction industry, and enables participation in interesting lectures and open debates addressed to representatives construction industry, investors and individual visitors. The core of the thematic scope of the LUBDOM Fair is invariably construction.
At this year's edition of the LUBDOM Fair, the assortment will be presented by, among others, companies operating in the door and window joinery sector, suppliers of unconventional technological solutions in the spirit of eco-friendly and representatives of the architectural industry. Due to market trends and the current situation of the construction industry, LUBDOM will present modern solutions related to passive and ecological construction, smart home, security systems and renewable energy sources.
As part of the spring edition of the LUBDOM 2023 Construction Fair, the 4th edition of the Lublin Scientific Congress of Design and Architecture will also take place.
The 4th Lublin Scientific Congress of Design and Architecture is a unique initiative co-created by many entities: industry institutions, commercial companies, designers, architects and trainers. They have one goal in common: to create an event that will bring together all those who are related to design, design and architecture in one place. During the congress, there will be exciting talks about design, architecture, projects and trends that await us in 2023 and 2024. The Congress is an integral part of the LUBDOM Construction Fair.
The theme of this year's edition of the event is ECOLOGY AROUND HUMANS AND IN INDUSTRY.
The topics of the Congress include the following issues:
Ecology and respect for the natural environment, and business.
European Green Deal - EU response to climate change and environmental degradation.
UN Sustainable Development Goals – Initiatives and projects supporting their implementation.
Water pollution and protection.
Does ecological architecture inspire young designers?
Energy from nature.
New Bio Design - Using the possibilities of biomaterials.
Planet Earth, where will we be in 2060.
More information on the website LUBDOM